Artisticiel : Cyber-Improvisations
In the collection of Dialogiques d'Uzeste, Bernard Lubat dialogues with the musical AI systems Omax, Somax and Djazz/ImproteK and their designers Gérard Assayag and Marc Chemillier. Release on May 28, 2021!
In this CD-Book just released, famous french pianist Bernard Lubat dialogues freely with the musical AI systems developed by Gerard Assayag and Marc Chemillier at Ircam. Live sessions recorded in New York, Philadelphia, Athens and Uzeste, a beautiful Gascon village where Lubat has founded a music festival unique in the world, unfold throughout the opus. With a powerful character, high energy interactions and an intricate musical fabric weaving natural and artificial musicianship, this music, whether it exhilarates you or overwhelms you, is undoubtedly comparable to no other. The CD is accompanied by 168 pages of critical apparatus explaining in detail what it's all about with an epistemological reflexion on the conditions allowing co-creative processes to appear and settle in hybrid (« cyber-human ») situations. Includes original texts by composer George Lewis, Edwin H. Case Professor of American Music, Composition & Historical Musicology at Columbia University (and former UCSD professor), Gérard Assayag, Research Director at IRCAM, CNRS and Sorbonne, and Marc Chemillier Professor at EHESS.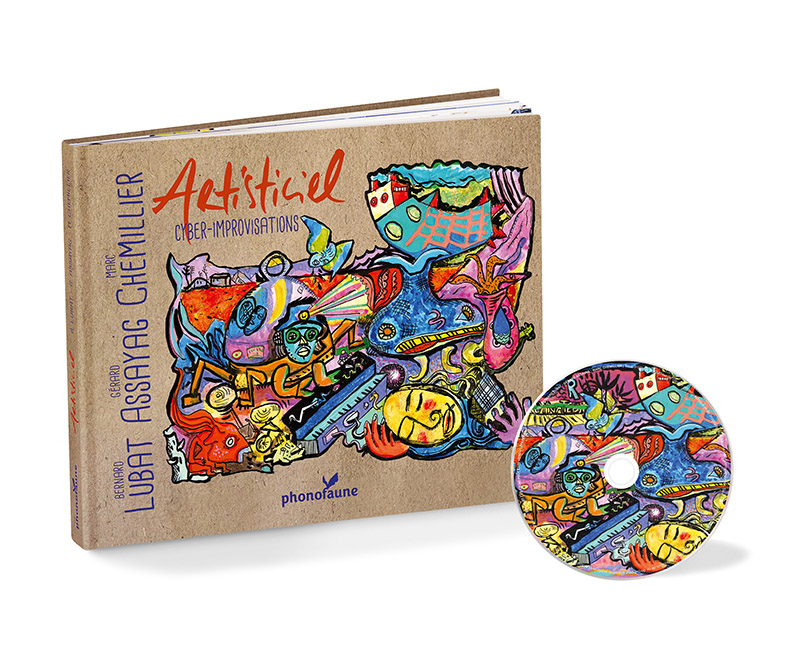 Listen to CD extracts --- Listen to the album on Youtube Music ---See Artisticiel on France Musique
After Lubat/Sylvain Luc, Lubat/Louis Sclavis, Lubat/Michel Portal, the dialogue with Lubat becomes cyber-human. From these experiments of collective indiscipline in live and in studio, emerges the unthinkable, the unthought: a natural-artificial contemporary improvisation. Reflections and discussions on artificial intelligence applied to music, the philosophical, social and creative stakes of these new musicality games then arise. This is the culmination of more than a decade of musical complicity, of scientific research at the highest level (now honored by the very competitive European Research Council Advanced Research Grant ERC REACH), of experiments in all directions and of the development of a series of software programs that have truly changed the world of musical AI (Omax, somax, ImproteK, Djazz, DYCI2).
"The machine by its curious combination of laborious stupidity and dazzling inspiration, seems to "liberate" from certain habits or automatisms", testifies Bernard Lubat. Marc Chemillier observes the traces that we deliver to the machine, a social issue. Gérard Assayag contemplates and comments on the mechanisms of co-creativity. George Lewis, a famous american composer and scholar, looks back on his first steps in this field and looks to the future. The recordings and texts in this book take us to the heart of a chaos of writing between man and technology, the invention of a diffracted language and an active diversity. A.I., a major stake for humanity, is the subject of this book-disc, in its original co-creative application to music. A hybrid object to listen and to be passionate about a new history of music and science in the 21st century: a natural-artificial cocreativity, a collective indiscipline.
The great game-question of the experiment led by the workers of this book-disc is that of co-creativity: a sharing between the world of humans and that of digital machines, which have to learn from each other.
The disc includes three cyber-improvised jazz performances recorded in New York, Philadelphia and Uzeste (at Improtech international festival-workshops organised by the authors) , and six in-vitro studio experiments. The book contains 168 bilingual pages of critical and philosophical apparatus on the stakes of creation shared between humans and machines by Bernard Lubat, Gérard Assayag, Marc Chemillier, and the great pioneer in the field, George Lewis.
Available (book-CD or streaming) at all major online retailers (amazon, fnac, spotify, youtube, apple music  etc), bookstores and record stores.
The PRESS KIT Videos Lubat : Assayag : Chemillier Concerts Improtech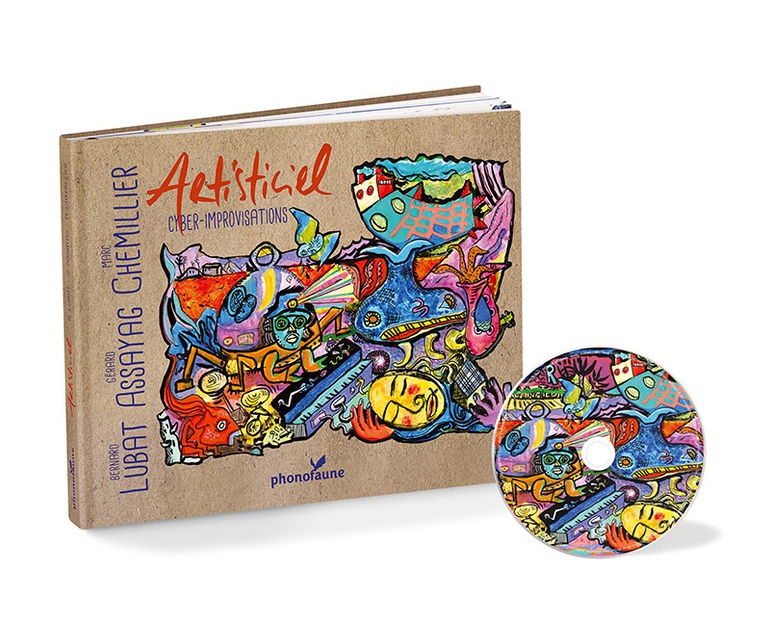 "Absolutely fascinating" Alex Duthil (France Musique)
"It sings at the top of its voice. Above all, it plays. To play with, to enjoy, to enjoy playing it. Chemilyag and Assaillier wriggle around, the three jollies send out a dry blast and Lubat gloats. He also works hard. Like never before. "Fabien Granjon (Jazz Mag)
The 17 " Coups de chapeau " of May 2021 (Zarbalib)
"...music in the quicksand of the future...An absolute must for those who are active in this field or have the slightest interest in the future possibilities of this combination." (Jazzhalo)
"...it is a richness of music and thought that will not leave anyone indifferent." (the last news of jazz)
"A very fascinating book-disc around Bernard Lubat's piano treated by computer in real or delayed time." JazzAparis.
"Hybrid, unclassifiable and radical...  It is joyful and learned" ALCA Prologue
"The questions and answers follow one another, lively and sprinkled with arpeggios, crackles, chases" (New York)... a simultaneous blitz" (Philly) ... an orgiastic power" (Uzeste)" Bob Hatteau, Jazz à Bâbord
"Artisticiel develops a dual purpose (words and sounds) on the creativity of humans and machines, the fertile alliance of jazz and computer music ... a chaos of writing truly shaking ... a waking dream of the most beautiful effect" (Guy Darol, Jazz Magazine, special issue, June 2021)
"Enjoyable and bluffing dialogues between man and machine" (Mathieu Gatellier, FrancoFans) 
Links