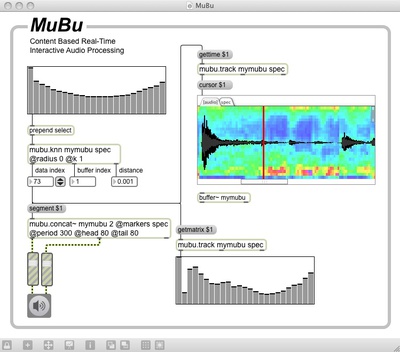 MuBu (for "multi-buffer) is a set of modules for real-time multimodal signal processing (audio and movement), automatic learning, and sound synthesis via descriptors. Using the multimodal MuBu container users can store, edit, and visualize different types of temporally synchronized channels: audio, sound descriptors, motion capture data, segmentation markers, MIDI scores. Simplified symbolic musical representations and parameters for synthesis and spatialization control can also be integrated.
MuBu integrates modules for interactive automatic learning for recognition of sound or motion forms. MuBu also includes PiPo (Plugin Interface for Processing Objects) for signal processing.
The development of the MuBu and PiPo modules is the result of the experience acquired during the development of the FTM & Co libraries as well as development carried out on software components during research projects such as the MuBu, ZsaZsa, and RTA libraries.
Applications
Musical works and interactive multimedia projects, interactive sound synthesis, music, dance
Main Features
Multi-buffer with a graphical interface
Recording data streams and sequences
Processing data streams and data store in the multibuffer
K-NN unit selection
Concatenative synthesis, granular synthesis, PSOLA
Additive synthesis
Platform
Logiciel Max, MacOSx, Windows.