ERC Advanced Grant awarded to Gérard Assayag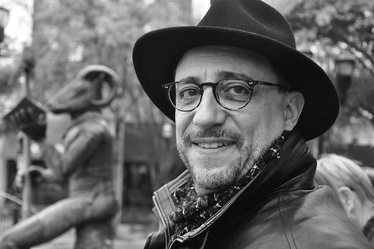 Gérard Assayag, research director at Ircam has received the ERC Advanced Grant (ERC ADG) for his projectREACH (Raising Co-creativity in Cyber-Human Musicianship), a new instance of his long going research in musical AI and creative systems.
REACH : Raising co-crEAtivity in Cyber-Human musicianship
The interweaving of human creativity with surrounding computational environment gives rise to new potential for joint human-machine action and new models of interaction. Original forms of shared reality involving "symbiotic interactions" will become widespread in the arts and human activity in general. Co-creativity between humans and machines will lead to the emergence of distributed and performative information structures involving the cooperation of artificial and human agents. This will certainly disrupt known cultural orders and have a significant impact on human development. The generative learning of symbolic representations from physical and human signals, and the understanding of the artistic and social strategies of improvisation will help us to better understand the dynamics of cooperation (or conflict) inherent in cyber-human networks.
To this end, the REACH project aims to understand, model and develop musical co-creativity between humans and machines through improvised interactions, allowing musicians of all educational levels to develop their skills and increase their individual and social creative potential. Indeed, improvisation is at the very heart of all human interactions, and music is a fertile ground for developing models and tools of creativity that can be generalized to other activities, due to the richness of its structures and constraints that foster the emergence of cooperative behaviour and highly integrated courses of action. REACH will study "shared musicality" at the intersection of the physical, human and digital spheres, as an archetype of distributed intelligence, and will produce models and tools to better understand and encourage human creativity in a context where it is increasingly intertwined with computation.
Go to REACH project page
Learn more :
On Co-Creativity Modeling Improvisation MOOC Music Research
Workshop - Festival Improtech  VIDEOS